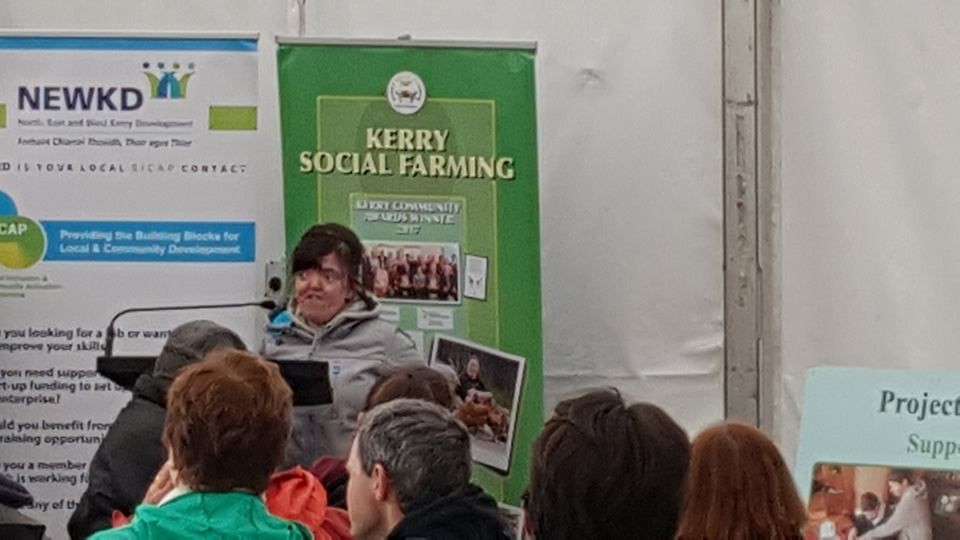 KERRY SOCIAL FARMING OPEN DAY 26TH OCTOBER 2018 AT BALLYBUNION
Kerry Social Farming hosted an open day at the farm of Rena Blake at Barna, Ballybunion on October 26th. Over 170 people attended drawn from participants, host farmers, service agencies, support workers, family members, local development company staff and Board members, Kerry County Council officers, potential host farmers and other interested groups. Paul Geraghty and Lisa Keveney from the Department of Rural Affairs and Community Development also attended. A Park and Ride system was organised in counjuntion with Kerry Local Link and attendees were brought to the farm from designated car-parking at the local Ballybunion Men's Shed. Groups were guided around the farm aided by a specially drafted map and each group visited various areas of the farm and the information stands. Kerry Social Farming participants, host farmers, local development companies, service providers and Local Link Kerry each had their own stand and personnel at each stand informed visitors about the project and answered questions from interested parties. Presentations were given by a number of speakers including:
• Cllr Aoife Thornton Chair of Listowel Municipal District.
• Sean Kelly MEP.
• Social Farming Participants Bronagh Enright and Mags O'Donoghue.
• George Kelly, Chair of Kerry Social Farming.
• John Stack Chair of NEWKD.
• Michelle Angland of St John of God, Kerry Services.
• Paul Geraghty of DRCD.
The event attracted coverage in local media including the Kerryman newspaper. https://www.independent.ie/regionals/kerryman/lifestyle/rena-hosts-a-great-day-out-as-social-farming-series-visits-ballybunion-37476414.html
An updated video on the work of Kerry Social Farming has been produced by Tadhg Hayes video Productions. To view this video just click on the link here https://www.dropbox.com/s/fvutheqygr1y6fh/Kerry%20Social%20Farming2.mp4?dl=0